This page is also available in:

Italiano
Ten minutes – DIY & Garden is a new online publishing venture, which grew out of the experience with Bricoliamo (an online magazine aimed at a consumers published since 2005), especially its special section entitled "A mano libera" (freehand). It enjoys the crucial directional support of Giulia Arrigoni, an expert journalist who has worked in the DIY sector for many years and is extremely well acquainted with the modern retail sector.
Why "TEN MINUTES"?
A web portal is designed to be a large container that can be consulted at any time in order to gather information about any topic, brand or retailer that may be relevant to one's work. But what this particular publishing venture intends to do is enrich this formula by offering immediacy of news. Through TEN, any economic operator wishing to do so can be updated immediately on the current market situation, and without this taking up much time, just 10 minutes in fact.
The real heart of TEN is the newsletter, which operators receive periodically, and its Instant News, that is, various news items that are rapidly conveyed to users, also through Giulia Arrigoni's LinkedIn page, which currently has over 2,500 followers, both Italian and international.
The graphics
TEN aims to offer readers a sober graphic image that makes for easier consultation. It has a homepage made up of square boxes of the same size as the logo, and these are repeated in a modular fashion over the entire homepage. The result is a wall of news items, clearly indicated and easy to scroll through vertically. Advertisements are not relegated to specific areas in the layout; instead, they are inserted into the news flow, becoming part of it yet and always standing out from the content thanks to the use of a different colour scheme.
The graphic features of TEN have been carefully studied and designed to be compatible with and clearly displayed on any device.
Managing editor, Giulia Arrigoni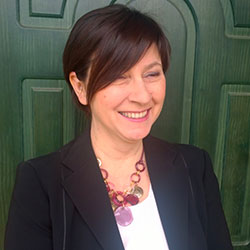 Ten minutes – Diy & Garden is produced under the direction of Giulia Arrigoni, a journalist who specialises in DIY topics and trends related to home improvement and decoration. During her career, which began back in 1989, she has worked with the most important specialised magazines in the field, gaining a deep understanding of the commercial and distribution dynamics of Italy's DIY sector.
Formerly managing editor of Bricomagazine as well as Italy correspondent for the international magazine DIY International, she conceived, and has since always organised and coordinated, the conference and seminars held during the Bricoday event.